Ch Song Sung Blue Golddust, WW'14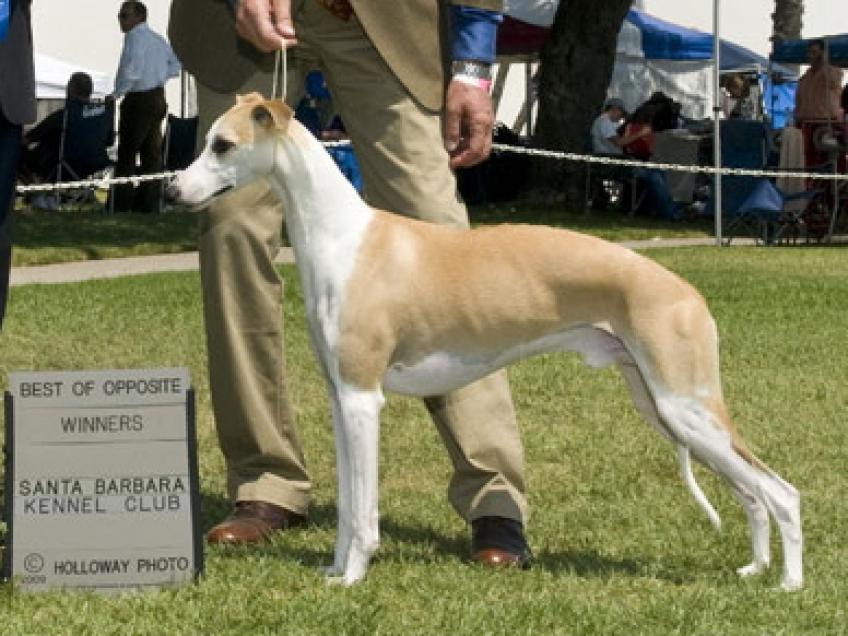 Titels:WORLD WINNER 2014 HELSINKI, WORLD VICE YOUTH WINNER 2009 STOCKHOLM, FCI International Beauty Champion, American Champion, Finnish Champion, Danish Champion, Czech Champion, Estonian Champion, Lithuanian Champion, Grand Russian Champion, Russian Champion, Russian Junior Champion, 4 RKF Champion Whippet Club Winner Saint Petersburg, Multi SBIS, Veteran Winner Donaueschingen 2016
Sire:Muti Ch Bohem Time Flies, WW'06
Dame:Starline's Limited Edition
Whelped:20-08-2007
Bred by:Rita Vanhaeren & Gilbert Simal
Owned by:Marina Slepneva (Flymarin Whippets, Russia)
Dandy is by the most spectaclar american bloodlines : Bohem and Starline.  It was in 2007 I got a message from Bo Bengtson that a Russian person was looking for a whippet : Marina Slepneva.
Marina had seen our Timmy, Multi Ch Bohem Time Flies WW06, in Poznan the year before.  She was there with her first whippet Fly.  She felt in love with Timmy....  When the puppies were born, I contacted her.  She was intrested in a puppy male.   She came over to our home a took Dandy with her to Saint Petersburg in Russia.  As Marina wasn't handling her whippets herself, I asked her to learn.  Which she did in perfection. Dandy won a lot of shows, in Russia, in the Nordic lands, and all over Europe.  During the Worldshow in Sweden in 2008, he became Vice Youth Winner.  In 2009, Bo Bengtson invited Dandy and Marina to come over to California.  He gained his AKC Chamion titel in style. He continued his showcarreer in Europe.  It was in 2014 he stepped in his sire's foodprints : he became World Winner 2014 Helsinki.
I am very proud of Dandy and all his achievements, thanks to his owner Marina Slepneva.
At stud for suitable bitches. 
Pedigree of Multi Ch Song Sung Blue Golddust
| | | | |
| --- | --- | --- | --- |
|   |   |   | Ch Chelsea Drakkar of Oxford |
|   |   | Ch Bohem Flight Time |   |
|   |   |   | Ch Bohem Delacreme |
|   | Ch Bohem Time Flies, WW'06 |   |   |
|   |   |   | Ch Starline's Reign On |
|   |   | Ch Bohem All About Eve |   |
|   |   |   | Ch Bohem Of Thee I Sing |
| Ch Song Sung Blue Golddust |   |   |   |
|   |   |   | Ch Starline's Reign On |
|   |   | Ch Starline's Take The Reigns |   |
|   |   |   | Ch Wenrick's Vanity Fair |
|   | Starline's Limited Edition |   |   |
|   |   |   | Ch Nasusa Cacique |
|   |   | Ch Starline's Strike A Pose |   |
|   |   |   | Ch Starline's Tapestry |
Song Sung Blue Golddust x Charlamar Redcliffe Waltz Time

born : 01.01.2016   -    (2 Males - 5 Bitches)  - Pedigree

              Flymarin

Song Sung Blue Golddust x Anahita Arva S  Honda Wei   

born : 27.05.2015   -    (5 Males - 4 Bitches)  - Pedigree

Amber Veiv'C Beckham
Amber Veiv'C Bartolomeo
Amber Veiv'C Berstain
Amber Veiv'C Brodway
Amber Veiv'C Bruklin
Amber Veiv'C Barcelona
Amber Veiv'C Bavariya
Amber Veiv'C Benfica
Song Sung Blue Golddust x Skorostnaya Ursula Disl

born : 01.10.2013   -    (6 Males - 3 Bitches)  - Pedigree

Favorite Racer
Finn Flare      
Fire Wolf
Fleck of Sunlight
Fluorite Soul
Fortunate Son
Fiery Fast
Felicity for you
Funny Hanny
Song Sung Blue Golddust x Charlamar's Paisley at Redcliffe     

born : 03.08.2013   -    (1 Male - 2 Bitches)  - Pedigree

Charlamar Redcliffe Oh Happy Day
Charlamar Redcliffe Happy Talk
Charlamar Redcliffe Happy Hour at Winsmith


Song Sung Blue Golddust x Counterpoint Guine Risk

born : 19.04.2013   -    (1Bitch)  - Pedigree

Counterpoint From Russia with Love


Song Sung Blue Golddust x Sagramour Samang

born : 18.04.2010   -    (3 Males - 2 Bitches)  - Pedigree

Villituulen Valentino Baloni
Villituulen Veyron      
Villituulen Viper
Villituulen Valkyrie
Villituulen Vantage
Song Sung Blue Golddust x Anahita Arva S Kurbi's Star 

born : 08.03.2010   -    (2 Males - 3 Bitches)  - Pedigree

Istoriya Lubvi Glorious Guardian
Istoriya Lubvi Graf Monte Cristo
Istoriya Lubvi Gardarica
Istoriya Lubvi Germiona
Istoriya Lubvi Guttiera